Aston Martin Owners Club race meeting Silverstone 6th April 2013 Report and images by Peter Baker Click to view gallery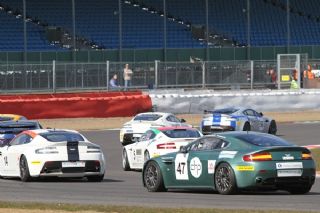 After a never-ending winter it must have come as a pleasant surprise to the Aston Martin Owners Club to find blue skies above Silverstone for their popular season opening 'Club' meeting.
The day offered a compact five-race programme, with highlights equally shared between the 1hr 40mn AMR GT4 Challenge of Great Britain, the HRDC 45-minute tussle for Touring Greats, the Equipe GTS Series and the two opening AMOC Championship races for Intermarque and 50s Sports Cars (including the XK Challenge). The promise of good weather and value for money tickets also bought out a reasonable number of spectators who were treated to a day of close but fair racing.
After a morning of qualifying the 45-minute AMOC Intermarque Championship got things underway with the 'extreme' Sunbeam Tiger, shared by William and David Smallridge, taking pole ahead of the very rapid Aston Martin DB4 of Michael Mallock. Team Retro-Speed member Jeremy Cooke (Porsche 911 RSR) was not far behind, while it is always a pleasure to see Wolfgang Friedrichs at the wheel of his unique Aston Martin DP214. Twenty-three cars made up the grid and when the flag fell Mallock made a great start, but the Smallridge Tiger was always in his mirrors, and it probably came as no surprise when the Sunbeam rumbled into a lead it held until the finish. Kevin Norville took third place, his modern Aston Martin GT4 struggling to keep up. James Neal (Porsche 964 C2) was fourth and Wayne Marrs fifth in his Ferrari 355.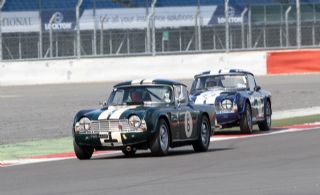 Race Two, Equipe GTS, saw a real ding-dong between the two Triumph TR4s of John Andon and Pete Foster, the pair swapping the lead on more than one occasion and crossing the line just half-a-second apart. Trailing in third place was Peter Tognola, whose Porsche 911 is known to be one of the first off the production line, while Mike Thorne pushed his Austin Healey 100M hard to take a worthy fourth. Mark Hoble tried to get his Morgan Plus 4 ahead of the Healey, but had to settle for fifth.
The AMR GT4 Challenge of Great Britain, over 100 minutes and with mandatory refuelling and driver changes, brought an element of Le Mans to Silverstone. And with a new aerodynamic package available for 2013 the cars are faster, with FTD going to Kevin Norville/Calum Lockie at 97.50mph, lapping the National 1.64-mile circuit in 1m 00.564s. The white Aston Martin, number 22, driven by Olivier Bouche and Andrew Jarman dominated the race, finishing 5.86 seconds ahead of second placed Tom Black and Chris Kemp. Third went to Kevin and Calum teamed with Richard Taffinder, while Tim Eakin finished a lap down on the leader. In the invitation class only two cars competed, the Martin Melling/Peter Snowdon Aston Martin DB4 Lightweight beating the similar car of Matt Le Breton by over a minute. There are a further six rounds of the Challenge to come, including a 'double-header' planned for Brands Hatch in the summer.
Next on the agenda, Race Four, the HRDC Touring Greats, was historic 'crowd pleaser of the day'. Twenty-seven various marques lined up for the 45-minute race and when the start flag fell Peter Burton and Les Ely charged off into the distance in their Jaguar Mk1s, followed closely by Rae Davis and a horde of screaming baby Austins. Two Sunbeam Rapiers, a rapid Ford Zephyr Zodiac Mk1, Hillman Minx, and even a Borgward Isabella TS, just like Bill Blydenstein used to drive, made up the mid-field, with two Fiat Abarths and Paul Alcock in his Morris Minor hanging on for grim life at the back.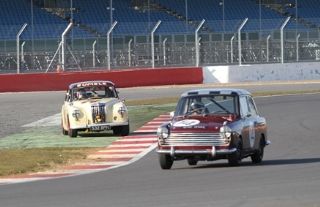 Series organiser Julius Thurgood was out playing in 'Bumble', the MG Magnette ZA that during its long life has been rallied to Monte Carlo several times, whilst Ding Boston was driving the Riley 1.5 belonging to the Oxford Universities Motorsport Foundation. Around half distance it was time for the compulsory pit stop, some teams changing driver while others needing a good shove (cars that is!) to get them back in the melee. As the minutes ticked by so the retirements mounted until, when the chequered flag came out, more or less 30 percent of the entry lay stricken in the dead car park. Peter Burton won by 46.95 seconds from Les Ely, with Rae Davis third, Neil Brown in the 'Powerful Peanut' fourth, and regular Aston Martin racer Desmond Smail fifth in his Austin A40. Good fun was had by all and Retro-Speed would like to thank CCK Historics for their pre-race hospitality.
Race Five, the AMOC 50s Sports Cars (including the XK Challenge) was a good old-fashioned 35-minute blast that saw twenty-nine cars finish the race, surely something of a record. Geraint Owen was always favourite to win, his continually sideways Kurtis 500S easily out-gunning the opposition, in fact Andrew Moore in his Jaguar XK120 was lucky to finish
only
three minutes behind. Nigel Web, in a similar car pushed hard to be third, just point-two-of-second ahead of Wolfgang Friedrichs, whose Aston Martin BD3S was, in turn, just one second ahead of John Burton, in yet anther Jaguar XK120. I was pleased to note Nigel Grice, with whom I enjoyed several laps of Castle Combe last year, finished the race in his highly original Aston Martin DB2/4 Mk2, albeit in last place.
So, well done to the Aston Martin Owners Club – it was a terrific day of racing, and well done to Silverstone for supplying some decent weather. It's the turn of the VSCC next, when their Spring Start Meeting takes place over the weekend 20/21 April. The bill includes HRDC Allstars, HGPCA Pre-66 Grand Prix Cars and the Commander Yorke Race for F3, which guarantees top class historic action.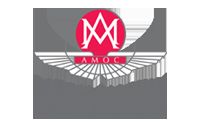 More information at:
amocracing.org
hrdc.eu
vscc.co.uk