Pushing For The Podium at Pembrey reports Kerry Dunlop. Click to view Kerry's images

Pembrey's fast, flowing layout produced some superb racing with close finishes in all of the Classic Touring Car Racing Club's championships at the BARC National meeting on 30-31 July.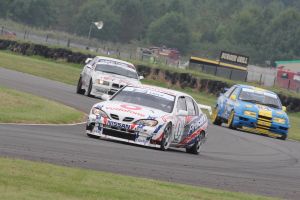 The Sub Zero: Wolf Classic Thunder Championship rounds were the closest of all. Current champion Keith Butcher bounced back to top form and kept his ex-BTCC Nissan Primera ahead of Garrie Whittaker's BMW E36 M3 to win both races by a narrow margin. Whittaker spoiled his chance of victory in Race Two with a spin on the opening lap. Joss Ronchetti finished a strong third but in Race Two his Sunbeam Lotus was pipped to a podium place by the ever-improving Martin Davies (4wd Sierra). Vaughan Fletcher's Subaru was the best of the rest.
The winning margin was even less in the first race for the SVG Motorsport Pre 93 Championship when Roger Stanford's BMW M3 held of Lawrie Dunster's similar car to win by just 0.458s. Stanford had an easier run to his second win as Dunster was a bit further back. There was a tremendous battle for third each time: honours were shared between Ken Lark (VW Corrado) and Graham Myers (Sierra Cosworth). The ubiquitous David Howard was fifth in both races and winner of Class A.
But Stanford had to settle for second best when the resurgent Tim Davies left all his rivals behind in the Thermex Classic Saloon and Historic Touring Car Championship rounds. Roger Ebdon only just kept Richard Sprigg off the podium in the first race, but next time out the Mini driver was forced to retire with a gear selector problem and the Anglia driver suffered another gearbox failure so Jim Burrows (1071 Cooper S) was third.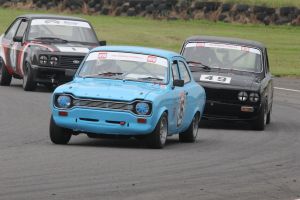 The Autoglym Post Historics were combined with the Hammerite Group One Touring Car Championship rounds. David Howard's XJ12 led all the way in each round, despite a tremendous challenge from the smart Capri of Jim McLoughlin. Tim Scott-Andrews was a close third in both races
Behind Howard the best Post Historic driver was Mark Osborne, whose Dolomite Sprint charged through the pack in the first race and pipped Mark Lucock's Escort each time.
Craig Rainer and his Escort Mk2 RS Turbo continued to dominate the Pro Driver Blue Oval Saloon Series, but only after current champion Graham Wait had been forced to retire his Sierra Cosworth while leading on Saturday. In Sunday's race Paul Nevill and Jeff Windsor took turns in second place until they eventually finished in that order after a last-lap re-shuffle. Craig Jamieson lost fourth place when his Sierra Cosworth expired amid a cloud of smoke.
More on the Classic Touring Car Racing Club championships at
www.classictouringcars.com