2011 Historic Formula One Championship, Red Bull Ring 13-15 May. Report and images from Jon Bunston

Red Bull tastes doubly sweet for Bobby Verdon-Roe in Historic Formula One Austria

Two convincing victories gained a maximum points haul for Bobby Verdon-Roe as the Portugal-based Brit steered his McLaren MP4 to victory in rounds 2 and 3 of the FIA Historic Formula One Championship at the spectacular 'Kick Off' event formally launching the revitalised Red Bull Ring circuit near Spielberg in Austria.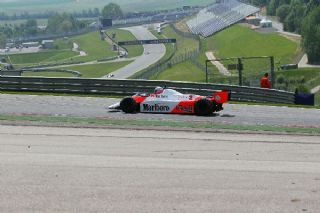 Formerly the A1 Ring the circuit has been brought right up to F1 licensed standard by a massive investment from the Red Bull energy drinks company. Red Bull founder, Dieter Mateschitz, was on site to conduct the opening ceremony in the company of both his current F1 World Champion, Sebastian Vettel and team mate, Mark Webber. When thanked for making the circuit a showcase location he responded by saying that his team had tried to make the circuit attractive to spectators and competitors alike.
Bernie Ecclestone was present, taking a specific interest in the Historic Formula One fraternity. Niki Lauda, Christian Horner and Helmut Marko also attended the event which of course included the many Red Bull extreme sports participants such as the NASCAR team from South Carolina, the stunt flyer who landed under the start line gantry and the loop-the-loop helicopter and skydiving teams.
A 16-car entry came to the circuit for the first time in five years and included Hubertus Bahlsen in this Kohler Garage Arrows A4 running for the first time in two years. Richard Eyre brought his immaculate Williams FW07 with Historic F1 Chairman Dan Collins making one of his occasional forays on track with his Lotus 91. Nico Bindels entered his Hall & Hall-run Lotus 87 and Classic Team Lotus had new entrant Andrew Beaumont in his Lotus 76. Two new entrants from Germany were Dr. Alexander Lienau with a Lotus 81 and Timo Scheibner with his attractive Ligier JS21.
Weather was predicted to mess with the weekend's racing but thankfully qualifying was completed in dry conditions allowing the might of the McLaren to put Bobby Verdon-Roe on pole ahead of Eyre's FW07, Bahlsen and Collins. Peter Wünsch with his Wolf was fifth fastest ahead of Bindels and John Delane an excellent 7th overall with his Tyrell 002.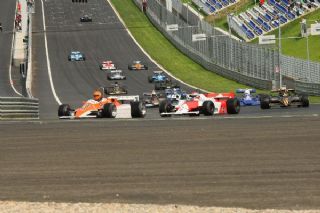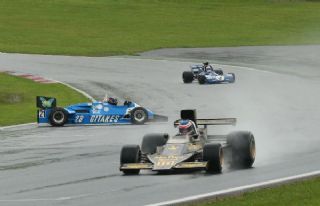 Race 1 was a 9-lap sprint on the Saturday. Bahlsen actually got the jump on Verdon-Roe but the McLaren was ahead mid-lap and pulled out a growing lead that was twenty-one seconds at the finish. Bahlsen was second from Eyre, Collins, Bindels and Wünsch. Lienau showed his knowledge of the track taking seventh ahead of Delane with Michel Baudoin's Shadow ninth, Beaumont's Lotus in tenth and Günther Alth's March 701 eleventh. Milanese legal eagle Luciano Quaggia drove his neat and reliable Theodore to 12th place with Terry Sayles completing the finishers.
The predicted inclement weather arrived on Sunday morning, but without the expected drop in temperature, as the gates opened at 9.00am to welcome some 20,000 spectators to a free day of racing and exciting demonstrations. However, steady rain gave the runners a taste of wet tyres in the 10-minute early morning warm-up which was to prove useful for the afternoon's race.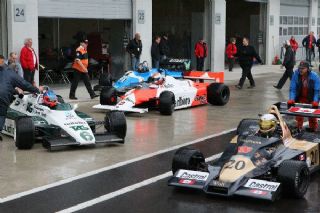 A long grid show with live broadcast TV exposure was completed as Race Director John Felix switched out the red lights. Bobby Verdon-Roe got the MP4 rolling sweetly and put on a master show of car control only having a moment right at the end of the 16 laps as he passed a back marker in sight of the chequered flag! Dan Collins had experienced an intermittent misfire all weekend and when the engine died momentarily on lap 8 it pitched the 91 into the gravel and out of the race. Scheibner's Ligier had shown an improving speed all race but also spun into retirement. Bahlsen chased all afternoon but could not keep the McLaren in sight, taking second at the flag, this time ahead of Richard Eyre with Nico Bindels a consistent fourth with Wünsch fifth and leader of class B for the second podium of the weekend. Andrew Beaumont had got the feel of his Lotus 76 for a strong 6th finish leading Delane, again the Class A winner, then Lienau, Sayles, Alth and Quaggia.
Red Bull Racing team manager Christian Horner presented the podium trophies and Dieter Mateschitz hoped that Historic F1 participants would return to Austria in 2012 for another spectacular racing show.
The results see Verdon-Roe and Wünsch tied on 30 points each with both drivers having scored maximum points from the first 3 races of the 2011 Championship. John Delane lies in 3rd position with Terry Sayles fourth. Historic Formula One will re-assemble in force at Monza on the first weekend of June with an expected 30-car entry including the mysterious Mr John of B already entered for round 4 of the FIA Championship.
For more information on the Historic Formula One Championship go to:
www.historicf1.co.uk