Willy Cave 1927-2022 Appreciation by Peter Barker. Images by Peter Baker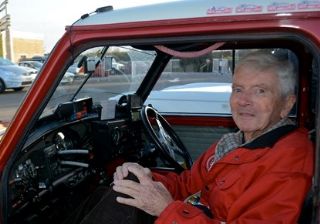 William Sturmy Cave (always known as Willy) was born in London on 29 January 1927, son of an army officer and landowner. In 1940 with the Blitz on London imminent, Willy was sent to live and attend school in Montreal, Canada for his own safety. As soon as he was able Willy volunteered for the RAF as a pilot. Willy completed his national service in the post-war RAF, flying the last of the Spitfires plus Vampire and Meteor jets.
Willy went to Oxford University, where he studied engineering. Whilst at Oxford, he founded the Oxford University Ski Club and was given a try-out for the 1948 Winter Olympics, but fell heavily in a race and so did not compete further. Through his Olympic experience, Willy was introduced to BBC TV staff in 1948 and became a graduate apprentice and latterly studio engineer, moving to BBC Manchester in 1950. He later returned to London where he was promoted to studio director, working on such well-known programmes as 'Tonight' and 'Tomorrow's World' (my favourite) for which he won BAFTA awards.
Many of the qualities that made Willy such an excellent navigator, his sense of time and space plus an innate organisation, had already been laid down. When in June 1950 he competed on his first rally (the Eastbourne Rally) in an MG with Michael Hughes, the die was cast for a 70-year career in rallying that carried Willy to the highest levels of the sport. Willy competed in his first international rally, the Rallye Monte-Carlo, in 1955 as part of the MG works team in an MG Magnette with Reg Holt and Alan Collinson. Arriving dishevelled and dirty in Monte-Carlo, after an arduous journey from Glasgow, Willy called in at the Hotel de Paris to see his parents who were in residence there. The doorman saw Willy in a poor state and refused to let him into the elegant hotel, assuming that he had come to rob the place. The doorman then took a great deal of persuading by the Cave family before relenting and admitting their son.
Willy navigated (he never regarded himself as a co-driver) for not only the BMC works teams, but also Triumph, Rover and Rootes as well as several private teams. He competed notably with John Sprinzel, performing well on his favourite rally, the Alpine Rally, in Austin-Healey Sprites and A35s on several occasions. A regular on the international rally scene, Willy competed in the European Rally Championship until 1965 and also in the World Cup Rally of 1970, with Peter Jopp and Daily Mirror journalist Mark Khan, but failed to finish in an Austin 1800 Landcrab. Willy's last professional rally was the 1971 RAC Rally, on which he competed in a 1300cc Morris Marina Coupe with Brian Culcheth, winning their class.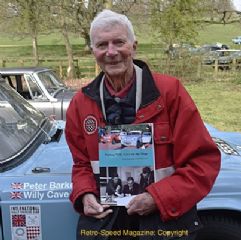 Willy retired from rallying to start a family, married his second wife Sam and had two daughters Rosy and Vicky. In 1991, John Sprinzel tempted Willy back into an Austin-Healey Sprite and they competed in the Pirelli Classic Marathon of that year. Willy found that he still enjoyed navigating and, with his skills much in demand, once more embarked upon a remarkable second career competing in historic rallies with a variety of drivers and achieving some notable successes. I was lucky enough to be one of those drivers and competed in 25 rallies with Willy between 1999 and 2012. Willy completed his final rally in 2020, having been active in the sport for 70 years.
Willy Cave was a first-class sportsman, a gentleman of the very old school and a true friend. I will miss him enormously.