Brits beat opposition at Spa Words and images by Peter Baker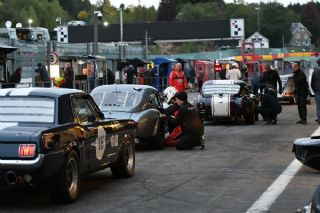 Every racing driver loves Spa Francorchamps, except at night, when it's raining, and they are tired, having been 'at it' for six hours. That's what makes this test of endurance so special. Old cars, mostly old drivers, and the same old ever-changing weather. Welcome to the Ardennes in October.
After a long delay, the Spa Six Hours Endurance race, attracting an entry of 100 classic race cars, finally got underway at 16:00 on Saturday, 2 October 2021, with a lengthy Friday qualifying held in the dry that did little to prepare drivers for what was to come. And, as expected, Ford GT40s dominated the 90-minute session, with Count Marcus Oyenhausen and Stippler setting a blistering time, over two seconds quicker than the similar car of American, Jim Farley. Stippler, however, was later forced to abandon ship after his GT40 caught fire and burnt-out on the entrance to the pit lane. Third place on the grid was occupied by father-and-son pairing of David and Olivier Hart, while star UK duo, Oliver Bryant and James Cottingham, started back in fourth.
As to be expected, when the flag fell it was a boisterous, but reasonably well-disciplined, chase up the hill, through Le Raidillon and along Kemmel Straight before multiple heavy-braking into the deceptive Les Combes sharp right and left. With six hours to run I'm always surprised by the sheer, on-the-limit, out-and-out pace shown by everyone, including the back-markers. The well-known adage 'you can lose on the first lap, but you can't win' springs to mind. It took a couple of hours and the first driver change before things settled down.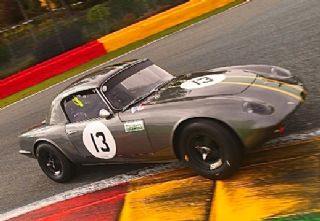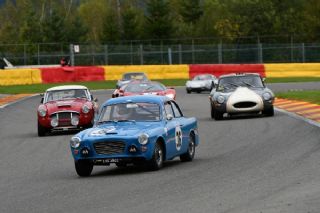 Unfortunately, number 13, the Lotus Elan shared by Graham Wilson/ David Pittard/ Andy Wolfe and adopted by Team Retro-Speed, after a late engine change, was proving a mite temperamental, forcing more than their fair share of pit stops. At the same time, Team Retro-Speed member Peter Mallett (Gilbern GT) continued to blissfully circulate, seemingly without a care in the world.
At half-distance, Fords filled the top six places, led by the Tony Wood/Miles Griffith GT40 with Oliver Bryant, now with the bit between his teeth, getting closer and closer. Next up, three Lotus Elans. The Elva GT160 of Gareth Burnett was sitting just outside the top ten, and sounding very sweet while, perhaps surprisingly, the Aston Martin DP214 now in the hands of Simon Hadfield was off the pace, in 24th position.
Five down, and one to go. As drivers began dreaming of chequered flags, and with Bryant/Cottingham now having slipped quietly into the lead, it began to rain. Hadfield loves wet weather and moved the big Aston quickly up to 13th place. The Elva was 11th, the Wilson/Pittard/Wolfe Elan 32nd, and the Gilbern GT of Peter Mallet continuing at regular pace now in 48th place.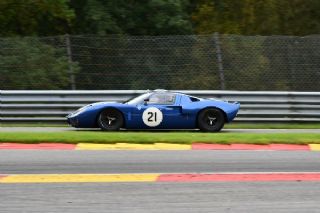 The dark blue Ford GT40 of Oliver Bryant and James Cottingham crossed the line first, followed by Andy Newell and Craig Davis (Ford GT40), with Richard Meins/Chris Lillingston Price/Andrew Bentley (Ford GT40) making up the top three. The Burnet/Bradley/Minassian Elva GT160 finished 8th, just ahead of Lynn/Haddon/Lynn (Lotus Elan), while Simon Hadfield, having been hit from behind on the last lap, had to settle for 12th. The little Gilbern 1800 GT suffered a time-delaying puncture with only minutes to go but still finished 47th overall. Meanwhile, Elan 'Lucky 13' that had at one point been last, pleased its drivers Graham Wilson, David Pittard and Andy Wolfe by staying together long enough to capture 31st overall.
The Spa Six Hours of Endurance 2021 was a great race, the first Euro long-distance classic since lockdown, and the first attended by UK teams. That British drivers won outright, and finished second, was the icing on the cake.