Motorsport is still alive in Imola! Words and images by Roman Klemm. Click to view Gallery.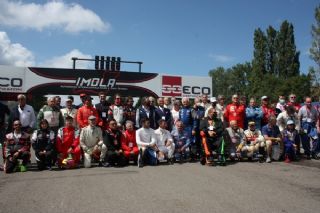 After a forced two-year break, the team around the former head of F1 and F2 teams, Giancarlo Minardi, managed to organise the 5th edition of his 'Minardi Day' at the Grand Prix circuit in Imola on 28-29 August 2021.
The free demonstrations around the Autodromo Enzo e Dino Ferrari, which began as a kind of reminiscence of Minardi's bygone 'big time' in international sports, has developed into one of the largest historic events in Italy. It was no wonder then, that after the long sabbatical, fans, drivers and owners arrived in big numbers and used this event at the end of a hot August to participate.
The paddock was bursting primarily with vehicles from major Italian brands such as the Minardi, Ferrari, Osella, Tecno, Stanguelini, Abarth, Dallara and Alfa Romeo. An auction of historic racing cars took place on Saturday evening, and large dealers and veteran restorers, such as Autoluce from Modena and Venturelliauto from Maranello, were also represented. So, one could take home from Imola not only a small model, but also a Ferrari worth several million. Those who did not have so much money with them could easily enrich themselves with at least the autographs of great Italian drivers.
Showing up at the Minardi Day is a kind of 'must' for all domestic veterans, so Bruno Giacomelli, Dr. Siegfried Stohr, Carlo Facetti, Riccardo Patrese, Jarno Trulli, Emanuele Pirro, Pierluigi Martini, Nicola Larini, Alex Caffi, Giovanni Lavaggi, Luca Badoer, Gianni Giudici, Alessandro Nannini, Ivano Capelli - and probably others that the author did not come across - were in attendance
With these impressions, I set off from sunny Imola on Sunday to a jammed highway towards cold Central Europe.