Triumph and Frazer Nash-BMW take honours Click to view Gallery.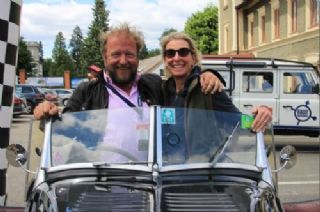 Rally Round's 2017 Paris-Prague Rally, from 11-17 June, covered around 2,000km, passing through France, Switzerland, Germany, Austria and the Czech Republic.
Inspired by the city-to-city races of the early 20th century the Paris-Prague attracted crews from 10 nations in a remarkable variety of machinery, ranging from a 1917 American LaFrance Roadster to a 1975 Ford Escort RS2000.
Leisurely lunch and refreshment halts might have been on the menu, but so were motor sport venues such as the 172-corner Freiburg-Schauinsland hillclimb and the old Masaryk Grand Prix course near Brno, keeping the competition intense, along with regularity sections and timed tests at closed venues.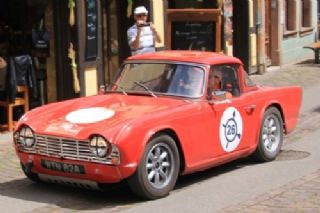 In the pre-war vintage category, a dominant performance by Martin and Olivia Hunt in their 1937 Frazer Nash-BMW 328 secured the Charles Jarrott Trophy by a margin of more than six minutes over Mark Robinson/Simon Parfitt (1936 Derby Bentley). The result would have been closer had Rudi and Helga Friedrichs (1932 Alvis Speed 20) not retired from second place on the penultimate day.
Misfortune also played a part in the post-war category. At the Chateau de Chantilly start, favourites Barry and Roma Weir 1966 in their Alfa Romeo Giulia Sprint GTV miss-adjusted their watch by a minute, incurring 386 seconds of penalties on day one. David Liddell and Mark l'Anson (1962 Triumph TR4) seized the advantage, taking the lead and holding it to the finish in spite of a late challenge from the 1970 MGB V8 Costello of Richard Dresner/Colin Mackenzie, who were just three seconds adrift on the eve of the final day. The Triumph crew eventually secured overall victory by a margin of 53 seconds.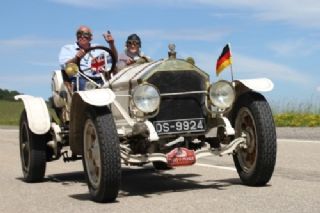 At the awards dinner in Prague, the route devised by Clerk of the Course Fred Bent and Rally Round Route Designer Kim Bannister was highly praised. The greatest acclaim went to the 1917 LaFrance Roadster crew, John and Catherine Harrison, who received the Spirit of the Rally Award to a standing ovation.