Paris-Vienna Rally: 13-18 June 2016 Words and images from Peter Hall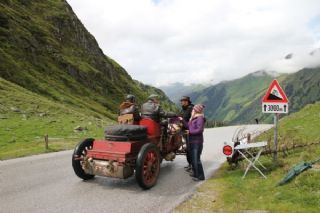 Rally Round's European events are inspired by the great motoring contests of the early 20th century, and June's Paris-Vienna Rally was no exception, recalling the epic city-to-city race of 1902. The pre-war categories were naturally the event's main focus, with 31 crews doing battle for the Charles Jarrott Trophy, while another 30 competed in the post-war category, including a small number whose vintage machines had been taken hostage at the last minute by mechanical gremlins.
As they prepare for an ever-expanding programme of international rallies in New Zealand, Japan and Bhutan, Rally Round Director Liz Wenman and Rally Coordinator Heidi Winterbourne have significantly strengthened the organisation of late, bringing in a host of experienced names to marshal events and collate results. Under the supervision of Clerk of the Course Fred Bent and Deputy CoC Paul Wignall, Paris-Vienna competitors were assured of a well-organised, sociable rally with plenty of refreshment halts, entertaining closed-venue tests and a series of increasingly tricky regularities on the picturesque 2,000km-route from Fontainebleau to Baden bei Wein, pausing overnight at Gerardmer, Lindau, Saalfelden and Pichlarn.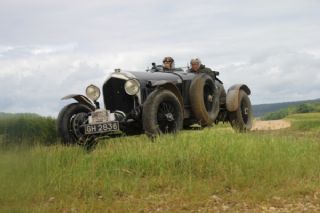 The one element of the event beyond anyone's control was the weather and, although the rally avoided the recent flooding in France and Germany, crews were faced with challenging conditions for the first few days, not least John and Catherine Harrison, whose 1917 La France steering wheel rim disintegrated in heavy rain – John managed to steer with the wheel spokes alone until it was repaired. Veteran leaders David and Natasha Royds were then sidelined by water pump failure in their 1917 Rolls-Royce, leaving the oldest car on the event, the surprisingly capable 1905 Bianchi Speedster of Peter Roberts and Colin Beasley, to take the class victory.
In the vintage category, hot favourite Alastair Caldwell, twice winner on Paris-Madrid, was delayed when electrical problems struck his 1938 Alfa Romeo 6C; co-driver Laurel Hill could at least complete the remainder of the rally in relative comfort, having swapped her summer footwear for a pair of Wellington boots. Meanwhile, at the head of the category, a close contest between the Bentleys of Andrew Bailey and Philippa Spiller (1928 3/4.5-litre), Keith Graham and Susan Hoffmann (1935 Derby VDP 3.5-litre) and Robert and Jane Abrey (1929 6.5-litre) was eventually decided in the Abreys' favour; in addition to the Charles Jarrott Trophy, Jane was awarded a bottle of Schnapps in recognition of her fortitude on the thrilling Stoderzinken hillclimb, a driving highlight of day four even for those who had to tackle the mountain in a terrific thunderstorm.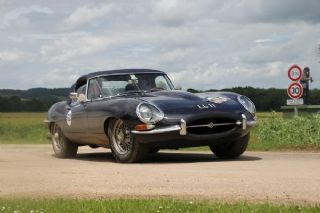 The Abreys also took a share of the Team Award, along with Andrew Bailey and Philippa Spiller, and David and Julia Little (1930 Bentley 4.5-litre). Victory in the over-4000cc vintage class went to Belgians Albert de Mey and Nicolas Leonard in their 1927 Bentley Tourer, while Keith Graham and Susan Hoffmann took the 2500-4000cc trophy, and German couple Gerd and Birgit Buhler came out top in the sub-2500c class with their 1938 BMW 328 Roadster.
A slightly easier ride was enjoyed by Irvine Laidlaw and Tony Davies in their 1969 Jaguar E-type Roadster; they led the post-war classic category from start to finish and actually amassed fewer penalties than any other crew on the rally. The other classic class winners were David Alderson and Dennis Greenslade in their 1967 Volvo 123 GT Amazon (sub-2400cc) and Dominic and Jack Manser in their 1984 AC Cobra (over 2400cc).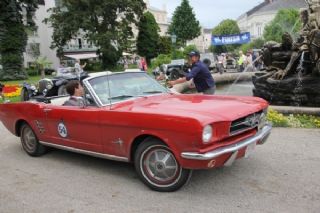 All participants expressed great satisfaction with the rally route and only passing irritation with the unpredictable weather; there were many sunny intervals and the last two days were particularly enjoyable as crews enjoyed thrilling Alpine roads such as the Nockhalmstrasse then headed in period dress for the finish, via a couple of tests at the OAMTC driver training centre at Teesdorf. Arriving at Baden in the midst of a rock 'n 'roll music festival, everyone had cause to celebrate a well-organised and thoroughly entertaining event. Not least young American crew Kevin Bennett (17) and Silas Hughes (23) in a 1965 Ford Mustang convertible, who survived a heart-stopping excursion into a roadside ditch on day one to win the Spirit of the Rally Award and a warm standing ovation at the black-tie gala dinner and prize-giving. They promised to return, as no doubt will many others when Rally Round sets off on its next European event; Paris-Prague in June 2017 - offerings to the weather gods are already being prepared!