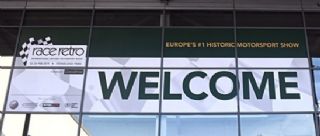 We have two pairs of single day tickets to give away for this year's Race Retro, taking place from 21-23 February at Stoneleigh Park in Warwickshire. Simply answer the following three questions for your chance of winning:-
1. Who is the headline sponsor of Race Retro 2020?
2. Which auction house will be holding a sale during the show weekend?
3. The Live Rally Stages are hosted by which organisation?
Email your answers via Retro-Speed's 'Contact Us' page to reach us by midnight on Tuesday 11 February. Two lucky people will be drawn from all the correct entries, and will be notified via email on Wednesday 12 February.