Editor-in-Chief's account of Rallye Monte-Carlo Historique 2007

THE TENTH RUNNING of the Rallye Monte-Carlo Historique was very special. Three hundred cars and five start points across Europe, each with an overnight concentration run leading to St. Etienne near Lyon where the event started in earnest. Four and a half days of tough regularity sections finishing with a closed road, night section over the famous Col du Turini, Sospel and impossible Col du Braus.

After a splendid pre-rally dinner held in the shadow of the famous Cathedral we left Reims feeling well prepared with our studded tyres and experienced service crew tagging on behind.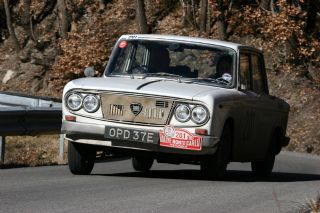 The run south in freezing conditions (down to -4) led us through a series of passage controls, each an oasis of warm hospitality with local delicacies, coffee and sometimes a glass of wine thrust through the open window. Even at two in the morning whole villages turned out to watch the intrepid adventurers pass through. This was the romantic side of the Rallye Monte-Carlo Historique. We were following in the footsteps of Allard, Appleyard and Rauno Aaltonen.
07.00hr Sunday. Today the competition begins. Four timed sections ending in Valence and running over narrow roads and in mixed conditions. Our little front-wheel drive Lancia Fulvia Saloon is well suited for the ice and snow but the crew needs more time to interpret the French organisational idiosyncrasies. Result; we lose valuable minutes, dropping us down to a lowly 214th place.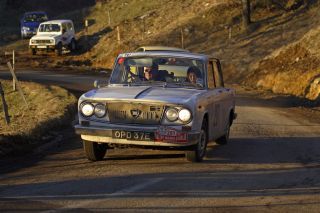 Same start time Monday. At last we are falling into a routine and with an overall average speed of 50kph (including any stops) the pace leaves little time for sightseeing and it is important to identify suitable service points. Every one hundred miles or so the back up team wave us down, top up the petrol, tap the boot lid and shout for us to carry on. So far there has been no need to open the bonnet. On the 37km Col de Menee fog hides sheet ice and the spectators cheer as we bounce off a snow bank. Even so our penalties for the day are light and the results sheet show car 201 has crept into the top two hundred.
Before clocking in at the Briancon control we are let loose on the Serre Chevalier Ice Racing Circuit. Wonderful and like others we show a complete disregard for discipline and average speeds.
Come Tuesday and things are hotting up. Each connecting road section is now as difficult as the special sections. There is an abundance of snow and ice while the organisers allow no extra time for delays and arriving into controls with locked wheels is a regular occurrence. These antics arouse no animosity from the bemused locals, who are gathered in large numbers and seem mildly amused by our strange antics. On the Col du Corobin descent we make a complete hash of things, misjudge the conditions and slide gracefully into a solid wall, denting the front offside wing, but more importantly, allowing the following Ford Escort to overtake. After all this excitement it was with a certain amount of relief that we reached the time control in Eze, just a few kilometres from Monte Carlo.
With the rally closed up we descended at minute intervals into the Principality where the cars were lined up in time-honoured manner (since 1911) in number order along the harbour side under the shadow of the Royal Palace.
As with the overnight stops the parking area was declared "parc ferme" until three hours later, when we climbed back aboard for the final loop. In other words no servicing or repairs. Once again any problems had to be overcome during the running average. By now and up to 184th we were imagining all sorts of missfunction.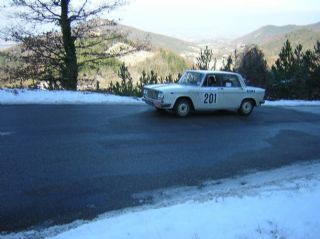 As a prelude to the night's drama drivers were allowed four laps around the harbour front at a pre determined average speed not exceeding 50kph. Great stuff; rally cars drifting, sliding and spinning their way between the barriers. Red mist springs to mind. Probably not what the AC de Monaco had anticipated. Then it was away into the darkness via La Turbie to Col de La Madone, the first regularity. After the usual countdown we accelerated away on a dry road and full of confidence. But this was shattered after just two kilometres when a figure was spotted in the middle of the track waving a warning lamp. The secure surface had given way to ice and the Lancia Fulvia HF preceding us was embedded in a tree. Just yards further down the road a Volkswagen was lying half off the road. A total of five cars were out after just twenty kilometres. This was serious, maybe a mite to serious.
The penultimate stage was the Col du Turini, probably the most famous hill climb in rallying history and in homage hundreds of cheering spectators lined the hairpin bends warming themselves on open fires. They must have fallen into Homeric rapture when the Alpine Renaults went through.
Suddenly there was only one timed section left. The dreaded Col de Braus. In 1951 Ian Appleyard declared it impossible. Fifty years later I agree. Each "lacet" (so named because the road resembles a shoelace) is connected by a straight no more than one hundred yards in length. First gear. 6,500rpm. Second. Back into first. Then second and immediately back to first. Procedure repeated over twenty hairpin bends. The summit is hidden by fog and the descent is trick or treat, mainly trick disguised as sheet ice. With a finish in mind we take a deep breathe and tread carefully allowing the studs to bite. Although we don't know it, our cautious approach has improved our position by twenty-one places. Returning to the harbour side at 02.45hr we have finished 163rd overall and 12th in class.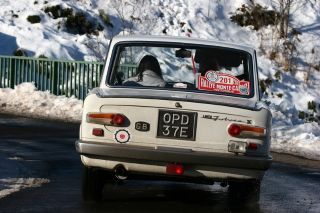 The Rallye Monte-Carlo Historique is now over except for the prize-giving. And what an extravaganza this turns out to be. Included in the entry fee is a gala dinner with entertainment at the Sporting Club de Monaco. Flashing lights, champagne, more food courses than you can shake a fork at and dancing into the wee hours. At two-thirty we retire back to the Hotel de Paris and collapse into our queen-size bed.