Two duels between Williams and Ligier, but too few competitors Words and images by Roman Klemm. Click to view Gallery.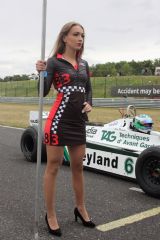 Formula One 2018 is not just for Le Castellet, Red Bull Ring or Silverstone. It may surprise you that from 22-24 June the highest class of motor sport returned to the Czech Republic after some years of absence.
The FIA Masters Historic Formula One championship already visited Imola and Brands Hatch this year, so it was no surprise that there were not so many competitors making the trip to the north of Bohemia. There were only 12 thoroughbred F1 cars in the pits of Most Autodrom, but this did not take anything away from the quality of racing.
Qualifying was dominated by professional Nick Padmore in his 1981 Williams FW07C, but the Briton soon realised that there was a big threat looming in the future. Second best time was set his young fellow countryman Matteo Ferrer-Aza, who chose Most for his debut in Historic Formula One. Not so long ago, Ferrer-Aza was one of the brightest British talents of junior racing, but he decided that historic motor sport is his way to go.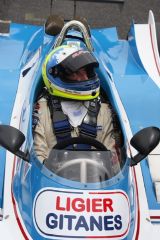 The able rookie qualified his 1979/1980 Ligier JS11 next to Padmore, being easily faster than seasoned big names like Katsu Kubota (Lotus 91), Steve Hartley (Arrows A4), or reigning champion Max Smith-Hilliard (Fittipaldi F5A). The remainder of a very interesting and competitive field was formed by Gregory Thorton (Lotus 77), Jamie Constable (Tyrrell 011), Jason Wright (Shadow DN8), Vincent Rivet (March 811), Paul Tattersall (Ensign N179) and Andy Wolf (Shadow DN5).
First race of the weekend became an easy run to glory for Padmore. Ferrer-Aza was still learning the habits of his car and came home second some 7 seconds behind the Williams after 17 laps and, in third, Steve Hartley was half-a-minute behind.
Sunday turned out to be the big show of the remaining nine cars on the grid (Tattersall's Ensign and Wright's Shadow sadly could not start). Smith-Hilliard (Fittipaldi) took the lead after the start, trying to defend it fiercely from Padmore, for some 5-6 laps with some success, but then the Williams just flew away. Padmore won again on Sunday, but it was not an easy run for the ex-Jones/Reutemann car this time. There was a blue challenge coming from seventh place and looming in Padmore's mirror; the ever clearer Ferrer-Aza Ligier. The youngster became faster from lap after lap, overtaking other cars and closing in on the leader. There was even a Safety Car phase after a tangle between Wolfe and Kubota, which helped Mateo a bit. The closing laps of the race were rather exciting and Padmore was just saved by the chequered flag, with Ferrar-Aza just 1.4s behind him. Smith-Hilliard, Thornton, Constable and Hartley were fighting for third for the closing 5 laps.
The Most Historic programme also included rounds of the FIA Masters Historic Sports Cars, as well as Pre-66 Touring Cars and Gentlemen Drivers, though also with just a poor number of cars entered.
Races with the richest fields of starters were the ADAC-Haigo Cups for formula and touring cars from previously communist countries, and the rather modern AFR-F3-Cup organised by evergreen Austrian Franz Woess.
One can only wish good luck to the brave Most organisers and pray for more cars in the future. Those 8, 00 fans who found their way to the Autodrom would love to be back in 2019 – so let's hope the newly installed Most Historic Grand Prix becomes a fixed event within the world of historic racing.
Historic Formula One race, Saturday
1. Nick Padmore, Williams
2. Matteo Ferrer-Aza, Ligier
3. Steve Hartley, Arrows
4. Katsu Jubota, Lotus
5. Gregory Thorton, Lotus
6. Jamie Constable, Tyrrell
Historic Formula One race, Sunday
1. Nick Padmore, Williams
2. Matteo Ferrer-Aza, Ligier
3. Max Smith-Hilliard, Fittipaldi
4. Gregory Thorton, Lotus
5. Jamie Constable, Tyrrell
6. Steve Hartley, Arrows